Create highly integrated products with a smaller package and increased functionality
Semiconductor industry demands for higher levels of integration and lower costs coupled with a growing awareness of complete system configuration have continued to drive the popularity of System in Package (SiP) solutions. Amkor's SiP technology is an ideal solution in markets that demand a smaller size with increased functionality. By assembling, testing and shipping millions of SiP devices per day, Amkor Technology has a proven track record as the industry leader in SiP design, assembly and test.
Amkor's Center of Excellence for substrate-based SiP technology is located in our largest volume manufacturing facility in ATK4 Kwangju, South Korea. The large-scale manufacturing capabilities in ATK4 factory can achieve significant volume production support with very high yields with short cycle times.
Amkor Technology defines advanced SiPs as multi-component, multifunction products in an IC package. They require high-precision assembly technologies, which leverage Amkor's strengths.
Size reduction
Ultra-thin package
Thin substrate with core and coreless using finer line and spacing
Conformal and compartmental shielding
Low filler size for mold underfill
Fine pitch flip chip and copper pillar
Double side assembly
Test development and production test
Turnkey solution
System in Package technology allows multiple advanced packaging technologies to be combined to create solutions customized to each end application. Laminate based SiP technology is in a front-runner solution and most popular SiP solution for cellular, IoT, power, automotive, networking and computing system integrations.
Existing market uses for SiP include:
RF and wireless devices
Power amplifiers, front-end module, antenna switch, GPS/GNSS modules, cellular handset, and cellular infrastructure, Bluetooth® solutions, 5G NR Antenna in Package (AiP)
IoT for wearable and Machine to Machine (M2M)
Connectivity, MEMS, microcontroller, memory, antenna, PMIC and other mixed-mode devices
Automotive applications
Infotainment and sensory modules
Power modules
DC/DC converter, LDO, PMIC, battery management and others
Logic, analog and mixed-mode technology
Tablets, PCs, display and audio
Computing and networking
5G networking and modems, data center, storage and SSD
Extension of the technology platform to a wider field of application areas is ongoing
Antenna in Package (AiP)/Antenna on Package (AoP)
(5G NR) SiP Solutions
Millimeter wave (mmWave) radio design with beamforming and array antenna will be used in varieties of advanced SiP products for 5G cellular systems. Millimeter electromagnetic wave design is imposing a new challenge for the system designers, components and SiP packaging engineers.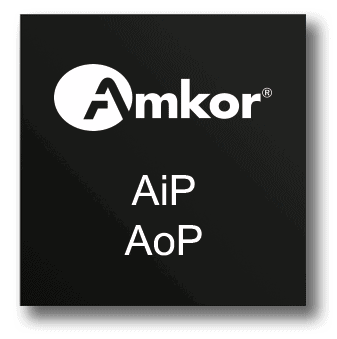 Key Amkor Packaging Technologies for AiP/AoP
Greater than 26 GHz achieved
Compartmental shielding
Partial (selective) conformal shielding
Partial molding
Body size: up to 23.0 mm x 6.0 mm
Substrate layer counts: up to 14 layers
Low loss and low dielectric substrate
Double Sided Molded Ball Grid Array (DSMBGA)
To further improve the integration and robustness of RFFE solutions, Amkor has developed a Double Sided Molded Ball Grid Array (DSMBGA) package to allow molded assembly of components on both sides of the substrate.
Key Amkor Packaging Technologies for DSMBGA
Increased integration for RFFE modules with significantly reduced package height
Allows integration of antenna tuners and passive components
Improves signal integrity and reduces losses
Conformal and compartmental shielding for EMI isolation
In-line RF testing
Download DSMBGA Data Sheet
Questions?
Contact an Amkor expert by clicking the request info button below.