Flexible design parameters to optimize performance and cost
Amkor's PBGA (Plastic Ball Grid Array) packages incorporate the most advanced assembly processes and designs for cost/performance applications. This advanced IC package technology allows application and design engineers to optimize innovations while maximizing the performance characteristics of semiconductors.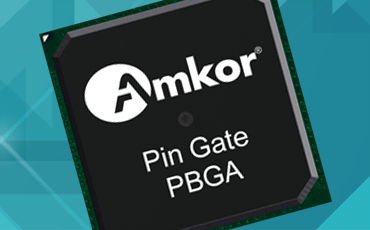 These PBGA packages are designed for low inductance, improved thermal operation and enhanced SMT ability. Custom performance enhancements, like ground and power planes, are available for significant improvements in electrical response demanded by advanced electronics.
Additionally, these packages utilize industry proven, semiconductor grade materials for reliable, long-term operations while providing user flexible design parameters.
Features
Custom ball counts to 1521
1.00, 1.27 & 1.50 mm standard ball pitch available, other ball pitches available upon request, (e.g. 0.8 mm)
17 mm to 40 mm body sizes
Thin Au wire or Cu wire compatible
Chip-on-Chip (CoC)
Large mold cap for quality enhancement
Low profile and lightweight
Thermal and electrical enhancement capable
Highly flexible internal routing of signal, power, and ground for device performance and system compatibility
HDI designs possible
Suitable substrate for multi-die (MCM) and integrated SMT structures
Mature strip based manufacturing process with high yields
Full in-house design capability
Quickest design-to-prototype delivery
Perimeter, stagger and full ball arrays
Special packaging for memory available
Multi-layer, ground/power
JEDEC MS-034 standard outlines
Excellent reliability
63 Sn/37 Pb or Pb-free solder balls
Automotive AEC-Q100 Compliance
Questions?
Contact an Amkor expert by clicking the request info button below.