Flat Lead power discrete for medium power applications
Amkor's SO8-FL (Flat Lead) is a thinner, thermally enhanced power discrete package, improving power dissipation capability by 47% and maintaining the same 5 x 6 mm footprint area as a standard SOIC 8 LD package.
SO8-FL is suitable for medium power applications, designed for low on-resistance and high-speed-switching MOSFETs including battery protection circuits, PCs, portable electronic devices and DC-DC converters. New developments include dual exposed pad for better thermal performance, thin wafer dicing with narrow saw streets, larger/higher density leadframe strips and environmentally friendly Pb-free solder paste. SO8-FL may also be known as SOP-Adv, PowerFLAT 5 x 6, TDSON, HVSON or JEDEC MO240 AA.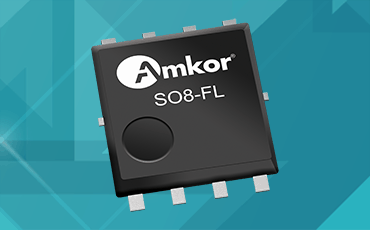 Features
Available in both JEDEC and JEITA package outlines
Thin and thermally enhanced package with the same size as SOIC 8 LD
Dual copper clip interconnect for better heat dissipation efficiency
Al strap and wire option available
Full turnkey from wafer probe through test and packing available
Green materials: Pb-free plating and halogen-free mold compound
Questions?
Contact an Amkor expert by clicking the request info button below.