Amkor experts located in our World Class Design Centers can work with customers to design and engineer top quality packaging for product requirements
Amkor's design engineers are trained experts and experienced in the latest design tools and packaging technology. We process thousands of new package designs for customers every year for existing or next-generation products. Our world-class design centers are strategically located in the United States, Korea, China, the Philippines, Portugal, and Taiwan to reduce design cycle times and provide customers with expert advice.
Amkor incorporates Design for Cost (DFC) and Design for Manufacturing (DFM) when Designing for Performance (DFP). Our highly trained and experienced design staff can provide leadframe, laminate or wafer level design services.
Chip Package Board Co-Design/Co-Verification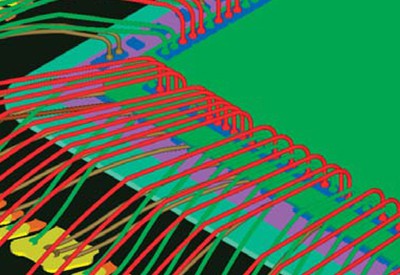 Amkor has the experience and expertise to verify customer designs meeting stringent system level requirements using our chip package board co-design and co-verification process.
Package Assembly Design Kits (PADK)
To ensure customer design requirements are met during the design phase, Amkor has taken a leadership role to fill the void between die design and package design by developing Package Assembly Design Kits (PADKs) for SWIFT® products.
Design for Cost (DFC)
Amkor performs cost-based analysis on all designs completed by the Amkor Design Center. Cost based design analysis and optimization are done before, during and post design. The iterative process evaluates cost versus performance requirements and balances substrate and assembly trade-offs.
Online Design Rules
The expert design engineers at Amkor are experienced in all of Amkor's design rules, which are available for customer use. Once registered, customers can access and download the design rules on Amkor's Web.data portal.
Questions?
Contact an Amkor expert by clicking the request info button below.