Optimal performance in IC packaging
SOIC (Small Outline IC Package) is a leadframe based, plastic encapsulated package that is well suited for applications requiring optimum performance in IC packaging. This industry-standard package runs in very-high volume and provides value-added, low-cost solutions for a wide range of applications.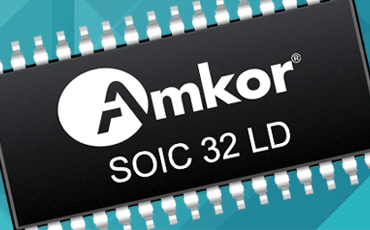 Features
Copper wire interconnect for low cost
Standard JEDEC package outlines
Multi-die production capability
Turnkey test service, including strip test option
Green materials are standard – Pb-free and RoHS compliant
Stealth dicing (narrow saw streets)
Larger/higher density leadframe strips
Leadframe roughing for improved MSL capability
Questions?
Contact an Amkor expert by clicking the request info button below.