The solution for high density, complex stack combination for innovative form factors
The FlipStack® CSP utilizes Amkor's industry-leading ChipArray® BGA (CABGA) manufacturing capabilities, in combination with Amkor's flip chip CSP (fcCSP) technology.
FlipStack CSP technology enables the stacking of a wide range of different semiconductor devices to deliver the high level of silicon integration and area efficiency required in portable multimedia products. This extensive high-volume infrastructure enables the rapid deployment of advances in die stacking technology across multiple products and factories to achieve the lowest total cost.
FlipStack CSP uses high-density thin core substrates, advanced wafer thinning, die attach, flip chip and wire bonding capabilities to stack multiple devices in a conventional fine-pitch ball grid array (FBGA) surface mount package. Many customers have relied on Amkor to solve their highest density and most complex device stack combinations.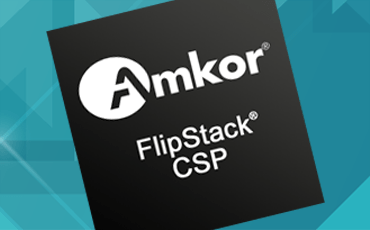 Portable multimedia devices including cell phones, digital cameras, PDAs and audio players employ FlipStack CSP solutions to address a range of design requirements such as lower cost and smaller, lighter and more innovative new product form factors. Additional applications include gaming, automotive and computing.
Features
4–15 mm body size
Package height down to 0.6 mm
Design, assembly and test capabilities that enable stacking combinations of memory, logic and mixed signal type devices in I/O counts from 50 to 1100
Established package infrastructure with standard CABGA and fcCSP footprints
Consistent product performance with high yields and reliability
Die overhang wire bonding
Low loop wire bonding less than 40 μm
Wafer thinning: wire bond to 40 μm, bumped wafer to 75 μm, cu pillar bumped wafer to 50 μm
Pb-free, RoHS compliant and Green materials
Passive component integration options
JEDEC Standard Outlines including MO-192, MO-195, MO-216, MO-219, and MO-298
Questions?
Contact an Amkor expert by clicking the request info button below.