Our commitment to customer satisfaction is conveyed through QualityFIRST
Amkor delivers industry-leading quality services to customers through our QualityFIRST initiative.
Amkor recognizes the need to extend the quest for quality beyond manufacturing. QualityFIRST is embedded in our processes ensuring the same quality standards for all Amkor employees.
Amkor embraces the principles and concepts of QualityFIRST and incorporates them in all segments of our business from new product development to manufacturing, administration, sales and customer service.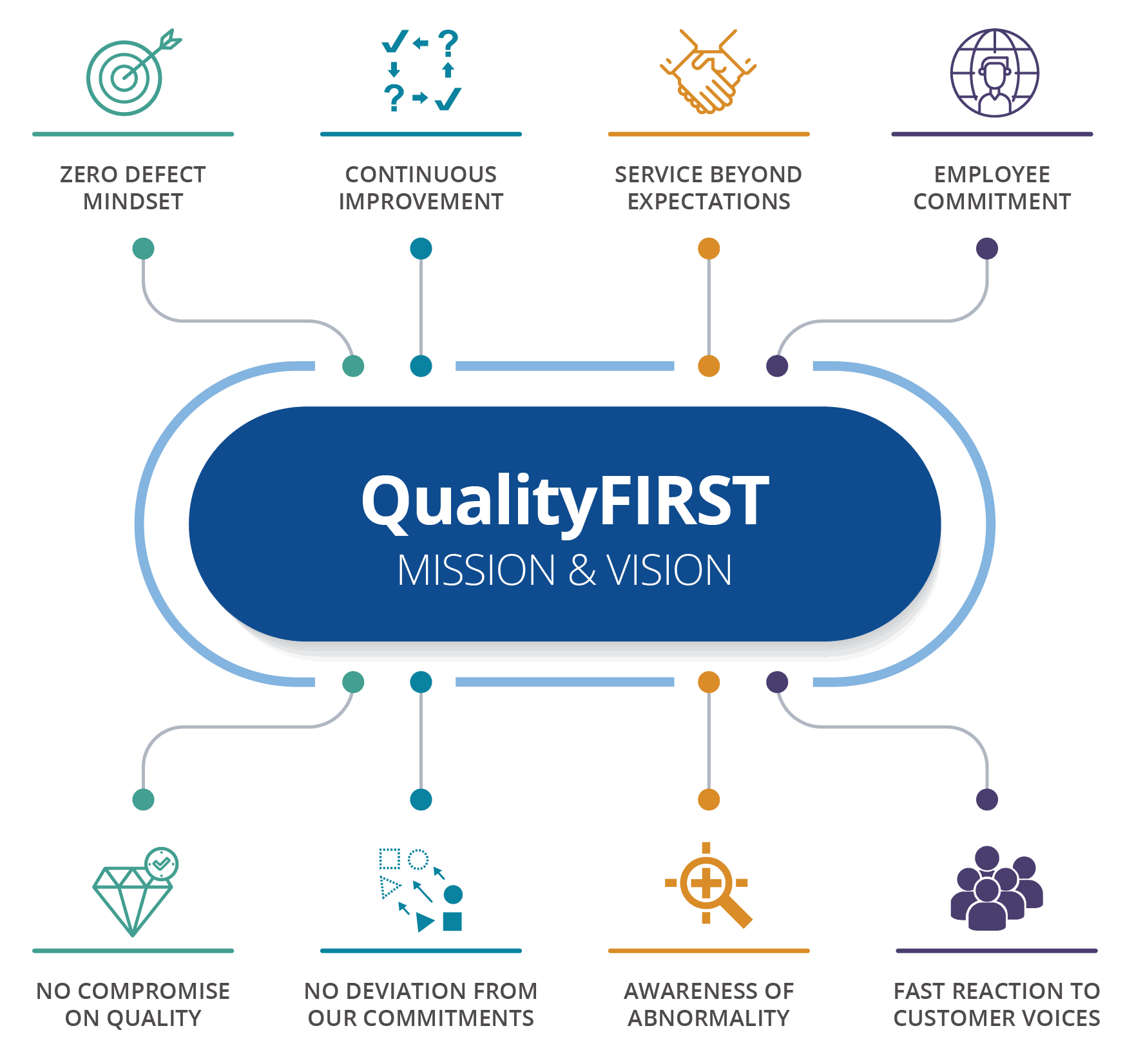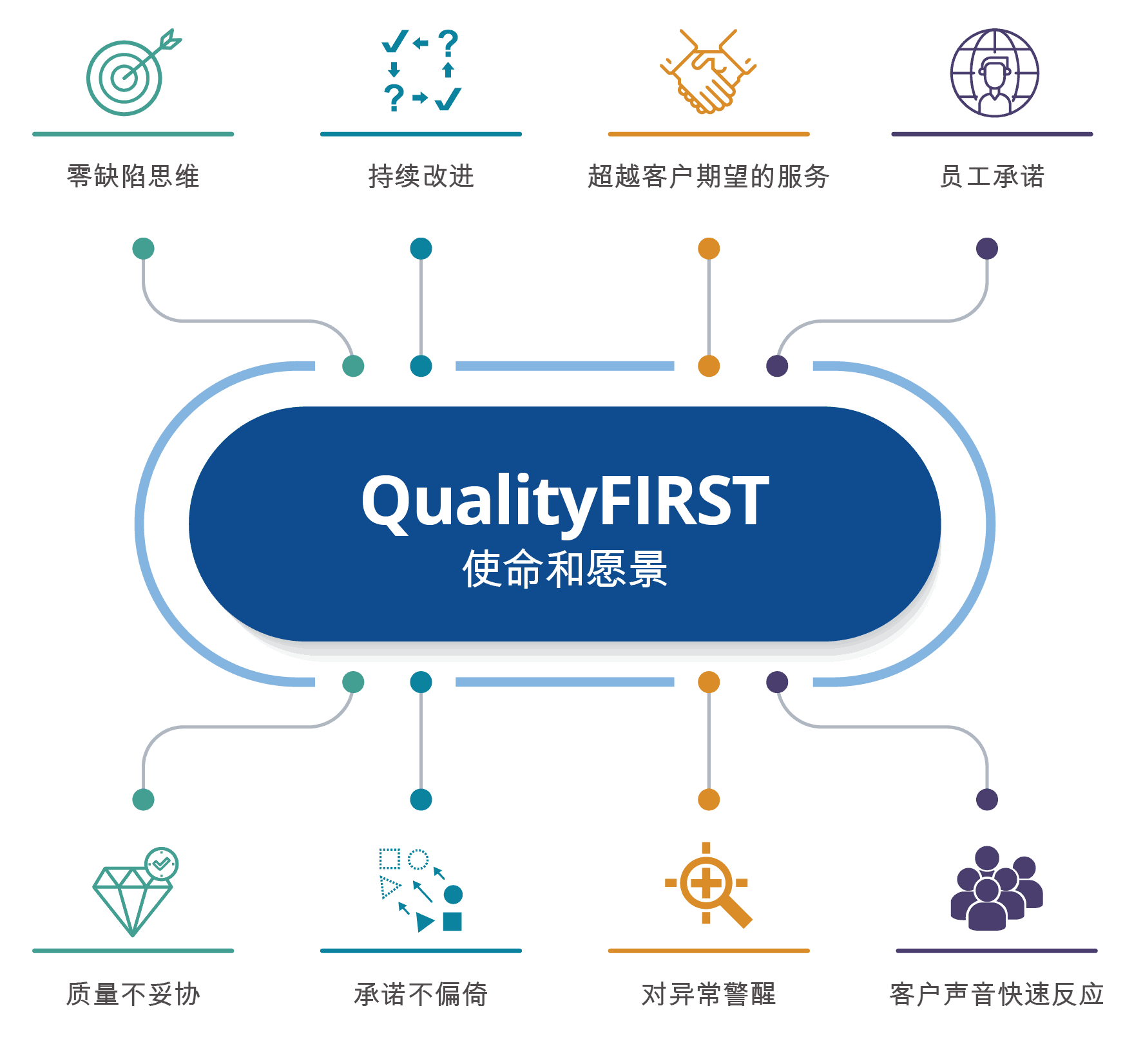 Automotive Quality
Amkor is the world's top automotive OSAT with the highest quality
Automotive quality expectations now measure defects in the "number of quality incidents" instead of PPM or PPB. As the world's largest OSAT for automotive ICs, we continuously strive to exceed customer requirements on a path toward zero defects.
Automotive Quality Systems
Zero defect mindset

Amkor QualityFIRST culture
Automotive Golden Rules

Automotive quality standard

IATF-16949
AIAG Core Tools & VDA 6.3

Customer-specific automotive requirements

Change management
Product-based FMEA/control plan
Automotive Process Controls
Automotive standard process and control
Factory automation
Unit Level Traceability (ULT)
Hands-free operation
Designated resources
5S, foreign material control
Supplier Quality
Our valued suppliers are key to achieving Amkor's QualityFIRST in the semiconductor assembly and testing industry
Amkor's global Supplier Quality Management (SQM) teams drive our suppliers to proactively work towards Amkor's quality expectations. Our suppliers are encouraged to make systematic and ongoing improvements to their products and processes through rigorous monitoring of material conformance to meet Amkor's requirements.
Quality Requirements
Supplier system requirements
Procurement (PO) specs per material type
Excursion Management (MRB/SCAR)
Incoming inspection
IQA specs per material type (various IQA specs)
Raw material control – supplier CAR
Raw material MRB
Supplier/Material Assessment & Qualification
Supplier quality system assessment

Quality system audit
Manufacturing process audit

Raw material/supplier qualification
Supplier audit (Amkor internal)
Continuous Improvement
We learn from everything we do and every day we strive for perfection
Amkor has designed continuous improvement activities across worldwide factories to achieve a steady, ongoing improvement to products, processes and services through constant review, measurement and action by Plan-Do-Check-Act (PDCA) cycle.
Customer Task Force Team (CTFTs)
Zero defect management TFTs
5S and FM (chlorine) TFTs
Best Known Method (BKM) fan-out systems
Process Improvement Council (PIC)
Corporate Equipment Engineering (CEE)
Customer audit & internal audit
Factory Certifications
Amkor adheres to internationally recognized quality management standards. Manufacturing locations are all certified and maintain the ISO 9001 & IATF 16949 for Quality Management Systems and the ISO 14001, ISO 14064 and ISO 45001 for Environment, Health and Safety Management Systems.
Questions?
Contact an Amkor expert by clicking the request info button below.