Enable rapid deployment with stacking technology
Amkor's Stacked CSP (SCSP) high-volume infrastructure enables the rapid deployment of advances in die stacking technology across multiple products and factories to achieve lowest total cost requirements.
Customers have relied on Amkor to solve their highest density and most complex device stack combinations. Stacked CSP utilizes high-density thin core substrates, advanced materials (i.e. thin film die attach adhesive, fine filler epoxy mold compound), along with leading-edge wafer thinning, die attach, wire bonding and molding capabilities to stack multiple devices in a conventional fine-pitch BGA (FBGA) surface mount component. These advanced assembly capabilities in combination with Amkor's expertise in design and test, enable stacks up to 16 active devices while optimizing yield and mounted height requirements.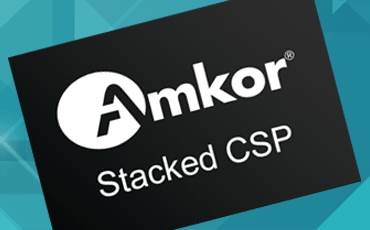 Portable multimedia devices including cell phones, digital cameras, audio players and mobile gaming employ SCSP solutions to address a range of design requirements, including:
Higher memory capacity and more efficient memory architectures
Smaller, lighter and more innovative new product form factors
Lower cost and more space efficient
Features
2–21 mm body size
Package height down to 0.6 mm
High die counts pure memory, eMMC/UFS, eMCP, and MCP
Design, assembly and test capabilities that enable stacking of DRAM with logic or flash memory devices
Logic/flash, digital/analog and other ASIC/memory combinations of 320 I/O and greater
Established package infrastructure with standard CABGA footprints
Consistent product performance, high yields, and reliability
JEDEC standard outlines including MO-192 and MO-219
Thin DA film and spacer technology, FoW and FoD
Extended die overhang wire bonding
Low loop wire bonding less than 45 µm
Wafer thinning/wafer handling to 30 µm
Vacuum transfer and compression molding
Pb-free, RoHS compliant and green material
Passive component integration options
Questions?
Contact an Amkor expert by clicking the request info button below.