Improve electrical performance and incorporate higher IC functionality
Amkor Flip Chip BGA (FCBGA) packages are assembled around state‑of‑the‑art, single unit laminate or ceramic substrates. Utilizing multiple high density routing layers, laser drilled blind, buried and stacked vias, and ultra fine line/space metallization, FCBGA substrates have the highest routing density available. By combining flip chip interconnect with ultra advanced substrate technology, FCBGA packages can be electrically tuned for maximum electrical performance. Once the electrical function is defined, the design flexibility enabled by flip chip also allows for significant options in final package design. Amkor offers FCBGA packaging in a variety of product formats to fit a wide range of end application requirements.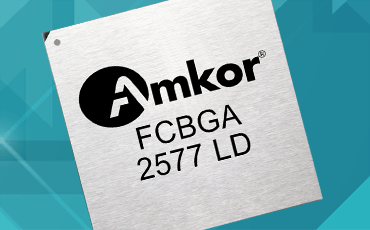 Technology Solutions
 Substrates

4-18 layer laminate build-up substrates
High CTE ceramic
Coreless

Bump Types

Eutectic Sn/Pb
Pb-free (green)
Cu pillar (array and fine pitch peripheral)

Package Formats
 Features
Die sizes up to 31 mm

Package sizes from 10 mm to 67.5 mm (85 mm in development)

0.4 mm, 0.5 mm, 0.65 mm, 0.8 mm and 1.0 mm pitch BGA footprints

90 µm minimum array bump pitch

<90 µm minimum peripheral bump pitch
Additional Package Options
Wafer Node ≥7 nm qualified, 5 nm in qualification

SMT components on top or bottom side

Multi-die capability

Memory components on top side

Variety lid material options

Grounded lid

Custom BGA footprints
Questions?
Contact an Amkor expert by clicking the request info button below.