Tailored design to enable an array of embedded packages
Amkor was among the first in the world to offer Wafer Level Fan-Out (WLFO) Packaging, enabling a wide range of embedded heterogeneous system integration package solutions, such as Wafer Level System-in-Package (WLSiP) and 3D Package-on-Package stacking solutions on wafer level (WL3D).
Tailoring the best solution requires a thorough understanding of a customer's needs. That's why Amkor's package solutions are developed collaboratively, which often involves partnering from the earliest stages of the chip-package-board design. Amkor is recognized for its proficiency in advanced packaging and its portfolio of innovative solutions manufactured in volume. These include the largest reliable WLCSP and the largest WLSiP multi-chip module in the medical market.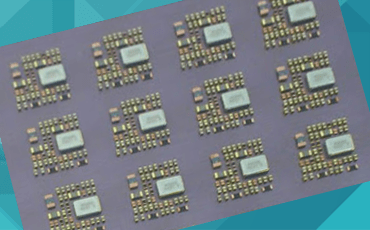 Features
WLSiP
Side-by-side (different dies) and multi-chip modules (same dies)
Discrete passives and already packaged dies integration
Ranging from 2 x 3 mm2 (2 dies) to 33 x 28 mm2 (10 dies)
WL3D
Package-on-Package (PoP) by stacking WLSiP and other package types, using pre-fabricated Through Package Vias (TPV) and post-fabricated Through Mold Vias (TMV®)
Integration by face-to-face (F2F) assembly of Flip Chip to WLFO or WLSiP package
Questions?
Contact an Amkor expert by clicking the request info button below.