Tailored design to enable an array of embedded packages
Amkor Technology was among the first in the world to offer Wafer Level Fan-Out (WLFO) packaging, enabling a wide range of embedded heterogeneous system integration package solutions. These include: Wafer Level System-in-Package (WLSiP) a single or multiple die, with or without passives or sensors integration and 3D Package Stacking solutions (WL3D), including Wafer Level Package-on-Package and Face-to-Face package assembly.
Tailoring the best solutions requires a deep understanding of customer needs. Amkor's package solutions are collaboratively developed, which often involves cooperation from the earliest stage of the Chip Package-Board co-design. Amkor is recognized for its proficiency in advanced packaging, and is known for a portfolio of innovative solutions manufactured in volume. These include the largest reliable WLCSP to date.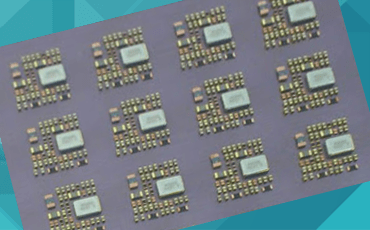 Features
WLSiP side-by-side multi-chip modules (MCM)
WLSiP with passives and leadless package integration
Portfolio of WLSiP configurations range from 2 x 3 mm2 (2 components) to 33 x 28 mm2 (10 components)
WL3D Package-on-Package (PoP) achieved by stacking WLSiP and other package types using Through Package Vias (TPV)
Applications
Mobile and consumer products, baseband, RF/wireless, analog, power management
ASIC, MEMS, sensors, system solutions for medical, security, encryption, DC/DC converter, radar and automotive
Electro-Optical WLSiP, solutions for M2M communication and Internet of Things (IoT)
Extension of the technology platform to a wider field of application areas is ongoing
Questions?
Contact an Amkor expert by clicking the request info button below.