Power discrete packaging for small and medium-size diode applications
Amkor's SOD123-FL power discrete package is part of our FLAT series of compact surface mount packages which allow communication equipment to be miniaturized.
SOD123-FL FLAT packages from Amkor are suitable for the application of high-efficiency diodes in small and medium size such as Schottky Barrier Diodes (SBDs), rectifier diodes and Zener diodes. New developments include larger/higher density leadframe strips, environmentally friendly Pb-free solder paste, bare copper leadframe, and solder paste die attach. This package may also be known as S-FLAT, SMF, STmite Flat or JEDEC DO-219 AB.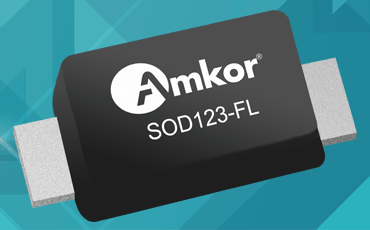 Features
Copper connector structure to reduce inductance and resistance
Enhanced thermal properties
Full turnkey available from wafer probe through test and packing
Green materials: Pb-free plating and halogen-free mold compound
Questions?
Contact an Amkor expert by clicking the request info button below.