Lightweight and thin package solution
Amkor offers a broad line of TQFP (Thin Quad Flat Pack) IC packages. These packages allow IC packaging engineers, component specifiers and systems designers to solve issues such as increasing board density, die shrink programs, thin end‑product profile and portability. Amkor's TQFPs are an ideal package for most IC semiconductor technologies such as ASIC, gate arrays (FPGA/PLD), microcontrollers and PMIC controllers. TQFP packages are particularly well suited for electronic systems applications requiring broad performance characteristics, including computing, video/audio, telecommunications, data acquisition, communication boards (ethernet, ISDN, etc.), set-top box and automotive.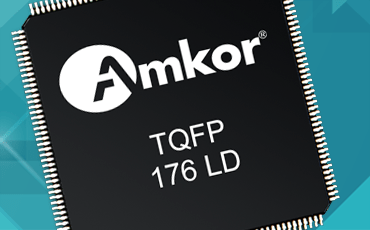 Features
5 x 5 mm to 20 x 20 mm body size with 1.0 mm body thickness
32–176 lead counts
Broad selection of die pad sizes
Pre-plated leadframes available
Inverted pad configuration available
Custom leadframe design available
Cu, Au and Ag wire options available
Pb-Free and RoHS compliant materials
Questions?
Contact an Amkor expert by clicking the request info button below.