The power discrete for medium power applications
The LFPAK56–SINGLE follows the JEDEC standard (MO-235) for medium power discrete products and is 50% smaller and 40% thinner than a DPAK (TO252) package with full turnkey solutions provided. The LFPAK56–SINGLE is designed for low on-resistance and high-speed switching MOSFETs such as motor drivers, power supply circuits, DC-DC converters and key applications for automotive in body, safety, and lighting.
The LFPAK56–SINGLE package is a highly efficient space-saving package featuring extremely low Rds(on) and strong thermal performance making it also well suited for high current and high voltage applications. The LFPAK56–SINGLE's interconnect via Cu beam lead (leads become the interconnect to die surface) allows for high currents and extremely low Rds(on) making this package well suited for automotive applications.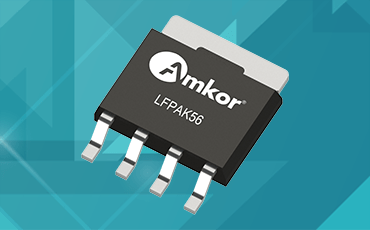 Reliability Qualification
Amkor packages are assembled with proven reliable semiconductor materials. All reliability testing include:
JEDEC standard pre-conditioning except for high-temperature storage
85°C/85% RH, 168 hours, IR reflow 260°C 3X
H3TRB: 85°C/85% RH, 1000 hours
UHAST: 130°C/85% RH, 96 hours
Temperature Cycle: -55°C to 150°C, 1000 cycles
High Temp Storage: 150°C, 1000 hours
Questions?
Contact an Amkor expert by clicking the request info button below.