Low-profile leadframe packaging
Amkor's Thin Small Outline Package (TSOP) is a leadframe-based, plastic encapsulated package suited for memory products, including SRAM, FLASH, FSRAM, and EEPROMs. A green BOM is standard, allowing devices to meet applicable Pb-free and RoHS standards. Amkor has a broad base of resources available to help customers bring quality new products to market quickly and at the lowest possible cost.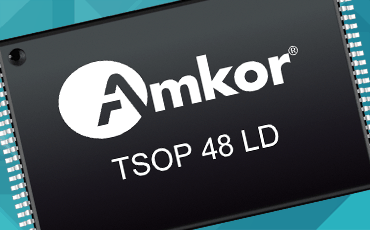 Features
Cu or Ag wire interconnect for low cost
Standard JEDEC package outlines
Enhanced design for memory applications
Stacked die up to 4X, including stair step and Film-over Wire (FoW) construction
Turnkey test services, including strip test options
Questions?
Contact an Amkor expert by clicking the request info button below.