Low cost and thermally enhanced package
Amkor's PLCC (Plastic Leaded Chip Carrier) is a four-sided plastic package that has "J" leads around its periphery. These "J" leads occupy less board space than gull-wing leads other packages like SOIC.
All Amkor PLCC products are JEDEC compliant in all respects. RoHS compliant, lead-free and green materials are now Amkor qualified standards for this package family.
Amkor's offering includes all square body packages from 20 LD through 84 LD and the rectangular body format of 32 LD. PLCC packages are used for a wide variety of devices, including memory, processors, controllers, ASICs, DSPs, etc. Applications range from consumer products to automotive, aerospace and industrial.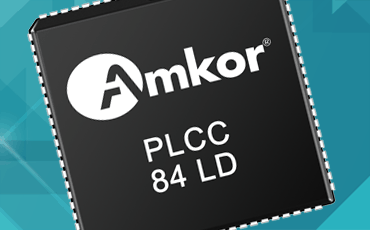 Features
Body sizes from .352" x .352" to 1.152" x 1.152"
20–84 lead counts
Conformance to JEDEC standard outlines
Fine pitch wire bond capability
Questions?
Contact an Amkor expert by clicking the request info button below.