The Drive Toward Zero Defects
Reducing defects becomes even more important as the number of chips in cars continues to accelerate
The automotive semiconductor market has doubled twice in the past 20 years. But the next doubling will be even faster. While short-term results may vary, it is certain that auto semis will be much larger 10-20 years from now.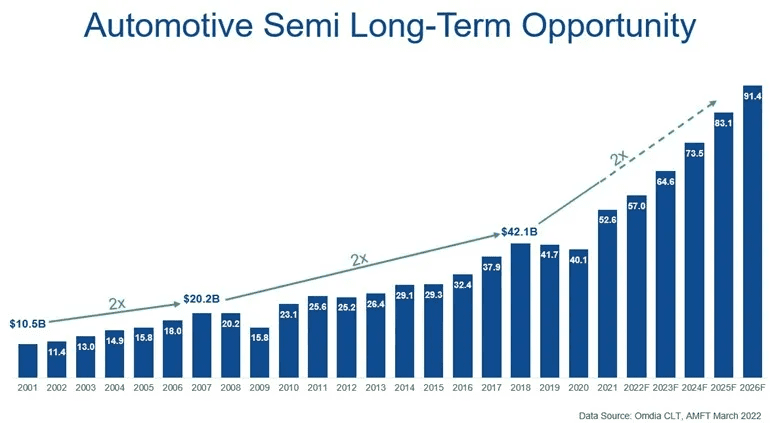 Today, a gas-powered car has ~$400 of semiconductor content whereas the Tesla Model 3 with an electric powertrain and Advanced Driver Assist System (ADAS) has >4x the semiconductor content at ~$1700 per vehicle. However, only 10% of the 1B cars on the road have ADAS and only 1% of the 1B cars on the road have an electric powertrain. A huge growth opportunity lies ahead as existing cars get replaced by those with Electric Powertrains and ADAS.
With the rise of automotive semiconductors, there is an urgency to implement Zero Defect strategies throughout the supply chain. If every car has ~40 electronic systems and each system has ~250 semiconductor components, then even a 1 ppm (parts per million) defect rate at the component level can result in a 10,000 ppm (1%) defect rate in the car. This is too high, especially for safety-critical electronics. Defects used to be measured in parts per million (ppm) but are now measured in parts per billion (ppb).
Automotive semiconductor suppliers rely on automotive standards and tools to achieve high reliability and quality. The Automotive Electronics Council (AEC) is a group most known for the AEC-Q100 automotive qualification spec for semiconductor components. More recently, the AEC has released a framework for implementing a Zero Defects strategy. This comprehensive framework (AEC-Q004) was assembled by participants throughout the automotive supply chain — auto OEMs, Tier-1s, semiconductor manufacturers and their suppliers.
The AEC-Q004 can be a great tool for automotive semi-suppliers looking to implement or refine their Zero Defects strategy. Each automotive supplier strives toward Zero Defects to ensure the safety and reliability of the vehicle. This effort is becoming even more important as the number of chips in cars continues to accelerate.
To learn more about Amkor's QualityFIRST initiative, visit amkor.com/quality and for Amkor's automotive packaging and test solutions, visit amkor.com/automotive.
About the Author
Prasad Dhond joined Amkor in 2014 and is Vice President, Wirebond BGA Products. He previously managed the Quad and Dual Leadframe product lines. Prior to joining Amkor, Prasad worked at Texas Instruments for 12 years where he held roles in product definition and marketing in the Analog product group. He holds a BSEE degree from The University of Texas at Austin and an MBA from Southern Methodist University.