A Look Inside ADAS Modules
You glance down at your phone while rolling in slow-moving traffic. Against your better judgment, you proceed to read your latest email, oblivious to the fact that the car in front of you has braked. In the nick of time, your car starts beeping and flashing. You look up and slam the brakes. Whew! That was close. If this has happened to you, don't forget to thank the radar and camera modules in your car for their service.
A Consumer Reports study found that majority of respondents —57 percent—reported that at least one advanced driver-assist feature in their vehicle had kept them from getting into a crash.
There's an alphabet soup of Advanced Driver Assist System (ADAS) terminology: ACC, AEB, LKA, LDW, etc. The National Safety Council, J.D Power, AAA, and Consumer Reports have come together to come up with common naming for these ADAS features. ADAS features are now offered standard on many cars as seen in the following table of features on 2020 Toyota vehicles in the US.
Some of these features are mandated by regulatory agencies while others help auto manufacturers score points towards a better safety rating for the vehicle.
Look at the windshield of a 2016 or later model car and you will see a camera peeking back at you. This is the front-facing ADAS safety camera.
There are variations of the front-facing safety cameras depending on the features implemented. Here are a few of them:

At CES 2019, Intel announced that the 2019 BMW X5 will use a TriFocal camera with the MobilEye EyeQ4.
Let's crack open one of these safety cameras. In a mono-focal camera such as the ZF S-Cam 3, we see two main components – a processor board that has the MobilEye EyeQ3 processor and the Image Sensor Board that has a CMOS Image sensor from ON Semiconductor.
Another architecture uses multiple cameras around the vehicle feeding into a central box. In the Tesla Model 3, there are 8 cameras around the car that feed into a central ADAS control module that is located under the dashboard.
The Tesla ADAS control board has evolved over the years. The latest version called HW 3.0 uses 2 SOCs designed by Tesla and fabricated by Samsung. There is plenty of semiconductor content on this board. According to an IHS teardown, Tesla's HW 2.5 board has ~$520 of semiconductor content.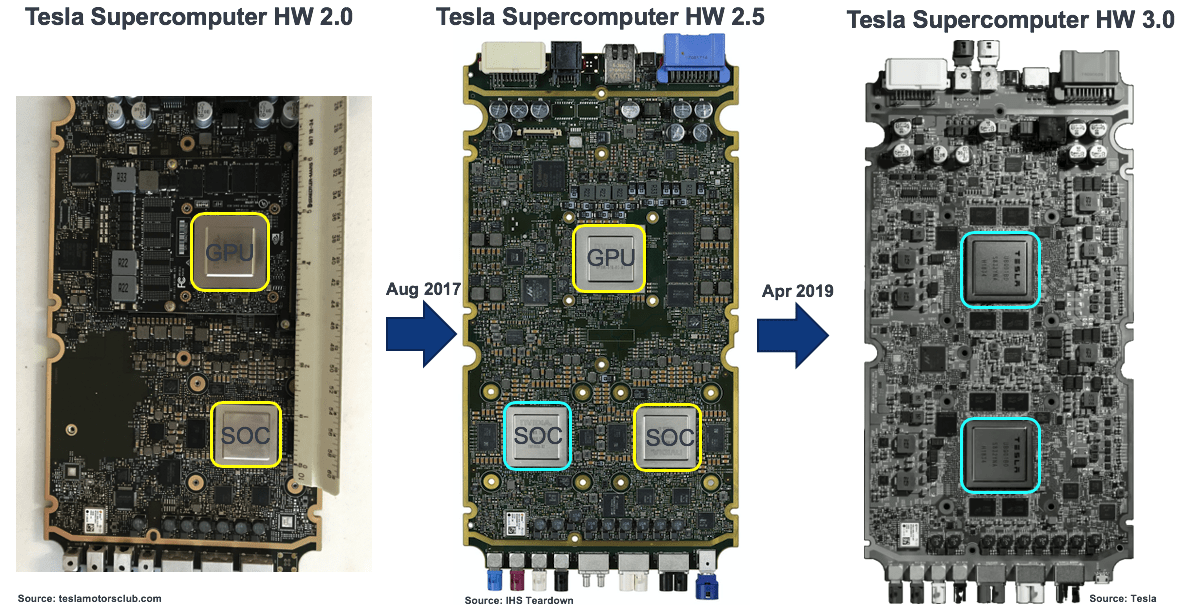 The other key component of the camera system is the CMOS Image Sensor (CIS). Most of the automotive camera modules use image sensors from On Semi. In 2014 On Semi acquired Aptina, which held a strong position in automotive CIS.
Another valuable ADAS feature is Blind Spot Detect. Radar modules in the rear bumper of your car enable this function.
There's another radar module at the front of the car. This is the long-range radar module that supports Adaptive Cruise Control and Automatic Emergency Braking. It could be in the front grille or in the front bumper of the car.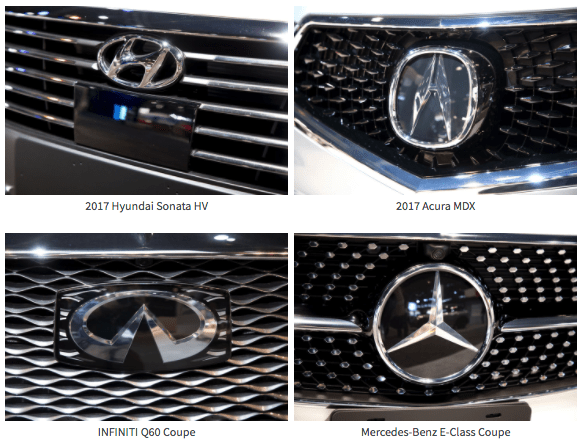 Each radar module also has two boards: a mainboard with a processor and an antenna board that has the radar chipset and antenna on PCB.
Till a few years ago, most of the semiconductor components in the car were using wirebond packages. While wirebond continues to be the dominant automotive package, ADAS modules are increasingly using advanced packages such as Flip Chip BGA (FCBGA), Low-Density Fan Out (LDFO), and Flip Chip CSP (fcCSP).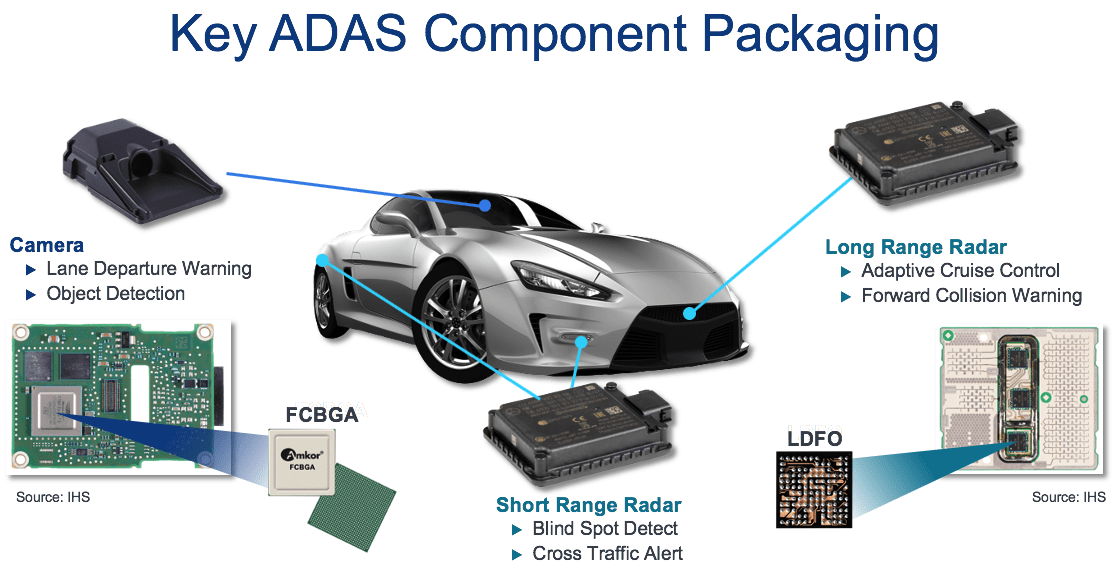 In summary, the key ADAS features are enabled by just two systems in the car:
The camera system: It has a CMOS image sensor that acquires the image and a processor that processes the data. The processor uses FCBGA packaging.
The radar system: There are typically three radar modules in the car. Two in the rear bumpers and one in the front grille. Each of the modules has transceivers that send/receive radar signals and a processor to process it. The radar transceivers are packaged in LDFO or sometimes in fcCSP.
That's it. But it makes a world of difference to the safety of the vehicle.
Disclaimer: All opinions expressed in this blog post are solely my own.
About the Author:
Prasad Dhond
VP and General Manager – Automotive
Amkor Technology, Inc.
Prasad joined Amkor in 2014 and is Vice President of Amkor's Automotive Market Segment. He previously managed the Quad and Dual Leadframe product lines. Prior to joining Amkor, Prasad worked at Texas Instruments for 12 years where he held roles in product definition and marketing in the Analog product group. He holds a BSEE degree from The University of Texas at Austin and an MBA from the Southern Methodist University.