Internet of Things to Change Your Life and Thoughts

Smart Clothes Adjust Their Temperature Per Outside Conditions and Improve Health and Musculature!
Progressing beyond skin protection and fashion, clothes with integrated electronics connect to smartphones to take the next step. Now clothes are not just clothes, but another smart device. Wearing smart clothes during exercise makes your workout better, and during everyday life makes you more efficient and comfortable by controlling your body's temperature. Like the universal acceptance of smartphones, everyone will soon wear smart clothes. And like smartphones, their functionality and affordability are made possible by advanced semiconductor packaging technologies that make the presence of electronics in clothes almost undetectable.
A few examples of smart clothes demonstrate their current capabilities. There is a smart jacket that automatically adjust the jacket's temperature depending on outside conditions by setting the desired temperature on your smartphone. Flexwarm knows you could be too hot if it's warm all the time, so it adjusts appropriately depending on the ambient temperature. There are clothes with integrated smart fitness functions, not a separate accessory like fitness watch or band. Antelope is a garment that helps strengthen the core muscles through muscle stimulation, which helps to increase strength, patience, coordination and speed while exercising. Those who compete in triathlons can also strengthen their core muscles during running and cycling, soccer players can increase their shooting powers and volleyball, or basketball players can improve their jumping skills as well. Hexoskin is a smart wearable care suit that detects, tracks and analyzes all the activities of the body, enabling high quality heart rate monitoring to match your exercise schedule. OMsignal measures breathing, calorie expenditure, strength of body movements and shows you whether you are doing your best in training or just taking it easy. (References: Product information translation and editing ioehub.net)
Flexwarm – clothing that features adjustable temperatures
Based on thin-film technology that combines a smart sensor with a very thin, unique heating layer of 0.5 mm in width, the jacket and vest use two internal integrated Flexwarm sensors to measure the jacket's internal and external temperature, and the jacket automatically adjusts the internal heating when you set the desired temperature through a smartphone app. In addition, you can accurately control the temperature of each part of the jacket, and the battery can be easily replaced. The cloth is waterproof, and the chest, back, hands and other parts are fire-resistant. It can be used either with iPhone or Android phone.

Video source : https://youtu.be/eC_J_8Z91g0
Based on EMS (electrical muscle stimulation) training technology, this product is developed to be ideal for recovery or rehabilitation after athletic competition or an injury. Like the bodily process that happens when our brain contracts muscles, it strengthens the core muscles through electric impulses. The clothes have built-in special conductive cables, and are composed of special compressed fiber integrated with electrodes and wiring, so you can wear them like normal sports clothing. Also, they are washable and have good ventilation and flexibility. You can exercise on rainy or snowy days because they are waterproof, and the rechargeable lithium batteries last up to 4 hours. You can set the frequency and intensity of muscle contraction, training time, speed and interval through a specialized app and Bluetooth, and training data can be stored and viewed at any time. They can be used either with iPhone or Android phone.

Video source : https://youtu.be/QMLoORDraxs
Hexoskin – Accurately Measuring Heart Rate
Hexoskin, a smart shirt that can check physical exercise, sleep and daily activities, can track heart rate to see electrocardiogram (ECG) status in real-time. It can also measure the change in heart rate to determine stress and training fatigue, and through breathing control and the volume of breathing, you can see how much lung capacity you have for each exercise. Step, stride, calories and more are recorded on the smartphone's real-time dashboard, and heart rate, breathing and posture during sleep can be measured. This is available for iOS and Android phones.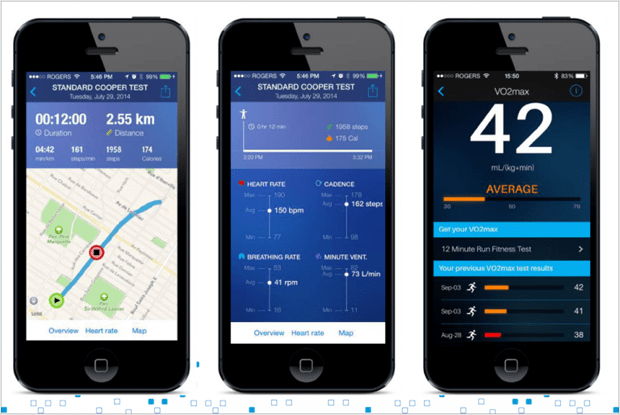 Video source : https://youtu.be/intA0ngx2m4
OMsignal – Clothes Measuring Biometric Data
Using the real-time biometric function from OMsignal's smart shirt, the current exercise and biometric data such as heart rate and breathing can be transmitted and saved on your smartphone. The comfortable shirt has a wear function that features waterproof, moisture control and odor control, in addition to improving blood flow and helping muscle recovery. it can be used for up to 24 hours on one charging with either an iPhone or Android phone.

Video Source: https://youtu.be/go5BZJ8Toy4
The author, Sangwook Ahn, is a freelance copywriter creating advertisement and promotion material for domestic and foreign companies and public offices, planning company newspapers and writing. He dreams of a happy world with huge interest in cutting-edge digital culture and everyone sharing and fully enjoying the novelty and affluence.